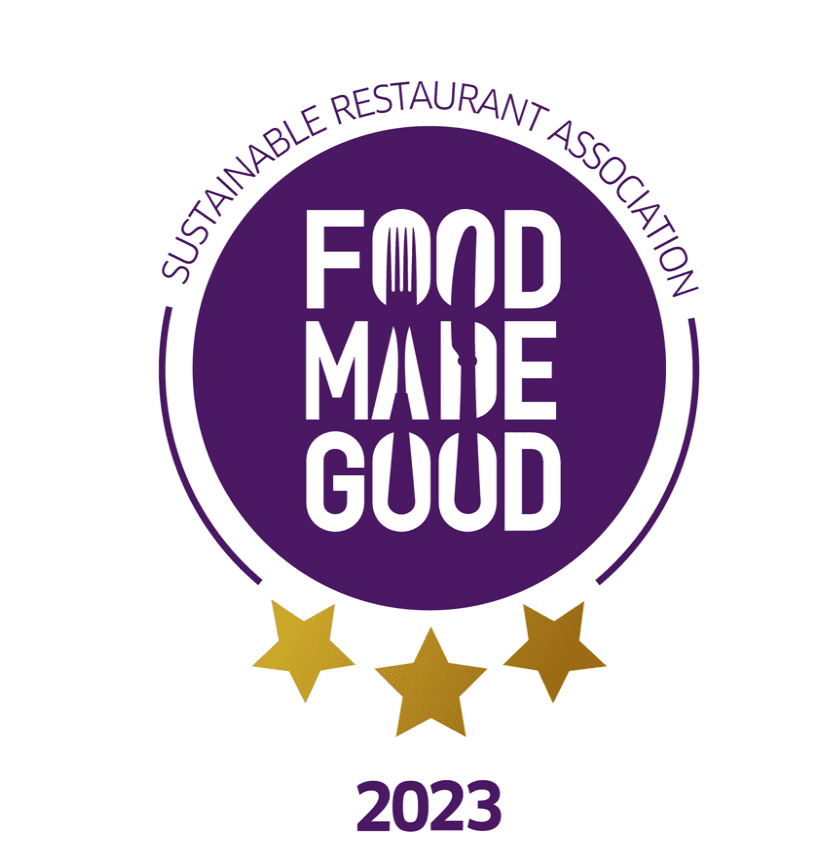 Heartwood Collection awarded top three-star Food Made Good rating by The Sustainable Restaurant Association 
Sustainability and locality underpin everything we do and so we are delighted to have been awarded a three-star rating under the Food Made Good Standard from The Sustainable Restaurant Association (The SRA).  It's the highest possible score and means that our pubs and brasseries are some of the most ethical and sustainable in the country.  
We were specifically credited for our responsible and sustainable food sourcing and the impact this has on the livelihoods of communities and higher standards of agricultural practices.  We take a seasonal approach to menu development, working with the seasons, not against them, to ensure all ingredients are used when they are at their best.  Our guests enjoy the freshest local and seasonal dishes which have been sourced with the greatest of care from farm to fork. 
This includes sourcing all meat from award-winning butchers Aubrey Allen, who supply the royal household and ethically rear flocks at the highest welfare standards. All fish served is currently rated 1-3 by the Marine Stewardship Council's Good Fish Guide. Fruit and vegetables are Red Tractor accredited. Heartwood uses Fairtrade coffee and sugar as well as Rainforest Alliance tea and chocolate, and works with a number of Certified B Corp Producers including Jude's ice cream and lly coffee. The Group's sourcing approach is widely communicated to guests on menus, websites and across other communications.
Our commitment to sustainability doesn't stop with our suppliers. We prioritise the wellbeing of our people through a number of initiatives, including a structured career development approach and wellbeing programmes, and we support the community through our charity of the year partnership alongside numerous local charitable initiatives.
We also have the highest standards when it comes to recycling and food waste, from our pubs and brasseries to our head office.
Juliane Caillouette Noble, Managing Director of The Sustainable Restaurant Association, said: "Completing the Food Made Good Standard is an achievement in itself, but a three-star rating is indicative of a truly exceptional commitment to measurable and transparent sustainability practices throughout every aspect of a hospitality business. We would like to offer our wholehearted congratulations to Heartwood Collection for outstanding work across the board – most notably in their efforts to support producers and celebrate seasonality and provenance. We were especially impressed by how they treat their staff, providing access to a variety of mental health resources, support and training, as well as operating an internal employee advice helpline. Well done to the entire team at Heartwood Collection – we know that a result like this demands dedication from everyone across the organisation."
Richard Ferrier, Managing Director, Heartwood Collection, said: "We are honoured and proud to have been awarded with a top three-star rating from the Sustainable Restaurant Association. Sustainability and locality underpin everything we do – from sourcing and menu development to the way we run each one of our pubs and restaurants – and we're delighted to receive recognition for our ongoing efforts. This result couldn't have been achieved without the hard work and dedication of our talented people who work hard to implement our sustainable vision at every single one of our pubs and brasseries across the UK."